Donkin House – Beaufort West accommodation
Welcome to Donkin Country House's – hospitable accommodation in Beaufort West to all those who travel on the N1 through the beautiful Karoo region.
Here at Donkin Country House, we pride ourselves on the variety of facilities that we provide to our guests and we strive to make our Guest House feel like your second home.
The Karoo and its people are known for their friendliness and hospitality and here at Donkin Country House, a superb Guest House we aim to uphold these values.
Many of our guests are regular gym-goers and make use of our gymnasium, choosing Donkin Country House as their preferred accommodation establishment in Beaufort West.
Donkin Country House offers up-market 3-star Beaufort West accommodation, in the heart of South Africa's Karoo region.
Our Beaufort West accommodation caters for business people and families alike. Our Guest House has a wide range of facilities. All rooms are en-suite, self catering, with air conditioning, Dstv, secure parking, and a lovely swimming pool.
A fully licensed bar and restaurant offers a traditional farm-style dinner buffet every evening. Our cuisine is superb. In the morning our guests can enjoy our full English breakfast before they leave Beaufort West and continue their journey on the N1. We have the best gym in Beaufort West.
Donkin Country House is seen as a significant establishment in the town of Beaufort West and has been providing excellent accommodation for more than 70 years. We are situated in the main street of Beaufort West which is also the N1 route which runs through Beaufort West.
Donkin Country House offers our guests a wide variety of accommodation. We can accommodate our guests overnight or for longer periods of time. We also provide accommodation for individuals who are bound to wheelchairs and our room has been specifically designed for your convenience. We are also pet friendly and our guests are more than welcome to bring their furry friends along to this accommodation establishment.
Our accommodation offers our guests a selection of 20 spacious and stylish en-suite rooms for single travelers or for a "big" family on their way to a holiday as they travel through Beaufort West.
We have enclosed parking at the guest house for your vehicle to ensure that it is safe. The gates are locked at all times and guests will use their own remote key to enter and leave the guest house as they please.
Relax and unwind in our bar or beside the sparkling pool with a specially made Karoo-sundowner or socialize in the garden under our large umbrellas. Our guests are more than welcome to use our gym to relax after a stressful drive. Braai-facilities are available.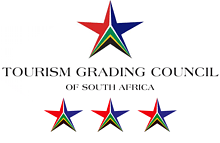 Comfort and serenity in stylish and tranquil Karoo surroundings.
DID YOU KNOW?
Donkin Country House was originally built in 1859. It was a private residence until the early 1940's, where after accommodation were provided under the name of 'Mrs. Roux's Private Hotel.' In the early 1960's it was used as a annexure of the Royal Hotel and given the name 'Donkin House'.
" Heerlik, gasvry, rustig.
Ons het oorgeslaap op pad Kaap toe. Mense is vriendelik en gasvry. Kamer skoon en netjies. Aandete heerlik! "
Mandi K
" Netjiese blyplek, met 'n restaurant wat 'n heerlike aandete bedien.
Baie dankbaar vir die lugversorger in die kamer. Eet gerus die Karoo-aandete wat hulle bedien, dit is heerlik. Kamers is netjies, groot en baie skoon. "
Lolita B
" Stunning!
Beste eetplekkie op perseel met die lekkerste pampoentert en karoo-tjoppies. Beslis die moeite werd. "
Lisinda R
" Aangenaam en het aan verwagtinge voldoen.
Die feit dat dit nie nodig is om die perseel te verlaat vir etes en drankies nie asook addisionele geriewe soos swembad en gimnasium, maak dit baie aantreklik vir die besige sakepersoon. "
Johan C
" Very pleasant, well situated establishment.
The venue is good value for money and well situated in the main street of Beaufort West. "
Simon H
" Ons het die verblyf baie geniet. Sal weer daar oorbly.
Heerlike verblyf. Aandete was heerlike Karoo-boerekos. Regtig waarde vir geld. "
Jan O
" Thank you, enjoyed our stay.
Secure and offered everything required to make our stay comfortable. "
Ilze S
" Het dit bitter baie geniet! Wonderlike verblyf.
Uitstekend, sal definitief weer oorslaap! "
Anton H
" Very impressive.
Very nice and clean, staff were very helpful and friendly. "
Christelle B